Coming to theaters this week are two movies. Those movies are The Darkness and Money Monster.
---
The Darkness:

Here's a synopsis for The Darkness provided by Rotten Tomatoes.
As a family returns home from vacation at the Grand Canyon, they innocently bring home a supernatural force that preys off their own fears and vulnerabilities, threatening to destroy them from within, while consuming their lives with terrifying consequences.
---
Money Monster: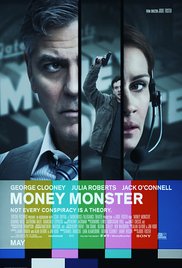 Here's a synopsis for Money Monster provided by Rotten Tomatoes.
Lee Gates is a bombastic TV personality whose popular financial network show has made him the money wiz of Wall Street. But after he hawks a high tech stock that mysteriously crashes, an irate investor takes Gates, his crew, and his ace producer Patty Fenn hostage live on air. Unfolding in real time, Gates and Fenn must find a way to keep themselves alive while simultaneously uncovering the truth behind a tangle of big money lies.
---
Are you going to catch any of these movies coming to theaters this week? 
Leave a comment down below.
If you would like a movie reviewed or have any movie related questions then email us at [email protected].