Design

45%

Coolness

40%

Wow-Factor

35%
Overall, the design is very concerning when thinking about a new Ghostbusters movie. You're looking for something that pays a little homage to the ones before them and brings a good twist to it all. They need to redesign both items to make it look better. At this point they look like something a cosplayer would make if they felt under the weather.
Hello Reviewers!!
Paul Feig released two images in the last 24 hours about the upcoming Ghostbusters movie, the uniforms and their weapon of choice… proton pack. He even used a semi-clever hashtag of #whatyougonnawear and #whatyougonnashoot for both the uniforms and proton pack respectfully.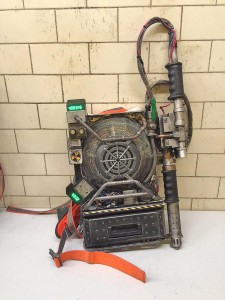 The look of the uniforms is kind of weird. It has a reflector bar on it which throws off the whole thing. They look like they're supposed to pick up New York trash in the mornings rather than fight ghosts. If they added something different like:
Only keeping the first line of the orange on the suit and taking out the reflective look to it.
Change the color of the bottom half of the uniform after the orange line from tan/brown to gun-metal grey.
I wouldn't mind it as much with those changes. This is probably the first thing out of the project that I dislike. The second thing I dislike is the proton pack.
When I take a look at the proton pack it gives me mixed feelings. The change to the pack is a good move for the new movie but this image is slightly off. It reminds me too much of Teenage Mutant Ghostbusters. The one thing I like about the pack is the gun section. The proton gun part looks kind of cool. It's the only redeeming factor about the picture.
What are your thoughts of the images released by Paul Feig?
Use the hashtag #bringonreviews for all of your responses. It might get a feature on our twitter page. 
If you would like a movie reviewed or have any movie related questions then email us at [email protected].