Coming to theaters this week is one movie. This movie is Jurassic World.
Jurassic World: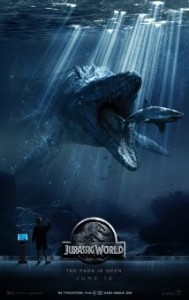 Here's a synopsis for Jurassic World provided by IMDB.
[quote]Twenty-two years after the events of Jurassic Park, Isla Nublar now features a fully functioning dinosaur theme park, Jurassic World, as originally envisioned by John Hammond. After 10 years of operation and visitor rates declining, in order to fulfill a corporate mandate, a new attraction is created to re-spark visitor's interest, which backfires horribly.[/quote]
---
Are you going to catch this movie coming to theaters this week? 
Leave a comment down below.
If you would like a movie reviewed or have any movie related questions then email us at [email protected].